It's no secret how much I adore great female representation when it comes to any form of media. Evidenced by my unabashed and continued obsession to write about the subject, like when I covered The Top 10 Coolest Women In Video Games. So I'm always trying to keep an eye on games that shine a nice light on females in games. Who will be the next Samus? Will we see the return of Jade from Beyond Good and Evil? That sort of thing is great to keep up with. 
We recently saw the return of Faith in the latest Mirrors Edge release and was it ever a blast to have her back! However much like the redesign of Bayonetta, it took a bit of getting used to when it came to her new look. As well as the being able to step into the shoes of Emily from Dishonoured who changed from a little lady to a kick ass woman. The recent year was kind to the world of gaming and gave us some great women to play as last year – and this year is looking no different. 
So let's not waste any more time and jump right into the 10 Female Protagonists Coming To Video Games In 2017!
2B – Nier: Automata
Starting things off is Nier: Automata. I cannot stress this enough through text. I've tried everything. Experimenting with the colour, font size, and more. But nothing felt right! Anyway. Neir : Automata is without a doubt, one of the most fluid action games I've played in years. I'm talking better than Ninja Gaiden, Devil May Cry, and more. Purely in mechanics.
Why does it rank so highly with its action Mechanics? Platinum. That's why. The team over at Platinum games, the same people who made Bayonetta, Metal Gear Rising, and a countless slew of other titles are the ones who are making this game.

At the helm of the game is YoRHa No. 2 Model B. 2B for short. A mysterious and striking character that we're put in the shoes of. She's got a calm and collected attitude that is very much like that of a robot, and her reactions and interactions with other characters can be quite amusing due to this stoic nature.
Nier is already an established game series which has little fanfare in English speaking territories, yet it has so many elements that make it worth a play. You've got bullet hell mixed in with 3rd person action and throw in some anime like Steampunk elements and it's pretty much a dream come true. Be aware that the first Nier isn't exactly like Automata, if you enjoy quirky Japanese titles, it's still worth a playthrough.
I could write about the game for hours. However do yourself a favour, download the Demo right now and play it. Trust me, you won't regret it.
Unnamed – Prey for the Gods
If you liked Shadow of the Colossus, then you'll want to keep an eye on Prey for the Gods. A crowdfunded game that has raised around half a million dollars in little time, this amount also went well over the planned target goal that the developer No Matter Studios had set out to make at first.
It's no surprise either as it was easily one of the most polished Kickstarters ever made – Not just in presentation but in just how prepared they were. Gamers didn't have to invest in an 'idea' with little point of reference. The team had a full trailer, multiple references of gameplay mechanics and everything. It was clear they were prepared. Our leading lady isn't named just yet, the game itself is enough to be hyped about. With dynamic weather straight out of the Tomb Raider reboot or Uncharted series that showcases intense weather set in a decaying world where humanity is sparse, and the intense and jaw-dropping boss encounters that look to even outdo some of the most epic encounters from Shadow of the Colossus! What's not to love about that?
Prey for the Gods is the sequel to Shadow of the Colossus that everyone has been waiting for.
Kat – Gravity Rush 2
Gravity Rush 2 is the sequel to the Vita starter game Gravity Rush. The original game was the entry point to showcase the Vita and the incredible power under the hood of the underloved handheld, with breathtaking visuals and fluid combat that let you float about freely with gravity based powers. (Seriously, moving your Vita around to zoom from one area or swoosh in to kick a monster in the face is so much fun!) If you've never played it, I highly suggest you check it out, they even released a PS4 port if you are against the little handheld that could.
Kat is a loveable protagonist and is a great underdog. (Undercat…? I'll escort myself out.) I don't want to ruin too much about her story so I'll keep my mouth shut about the details of her tale. (Tail. Cat. Hah.) Trust me, there is a reason she was included in Playstation All-Stars Battle Royale. She could be a mascot in her own right really and I hope she is used in more media and obviously hope to see more Gravity Rush games in the future as she could become a staple of the gaming community.
Thankfully the wait for Gravity Rush 2 isn't going to be long. She's releasing on the 18th of January 2017! (Tomorrow at the time of writing this article.) So give the series a shot if you've been coasting on the decision, if you like action adventure games, then Kat and her adventures are ones you won't want to miss out on.
Senua – Hellblade: Senua's Sacrifice
Title wise, Hellblade: Senua's Sacrifice sounds like the exact opposite of a good game. If I judged every game by the naming conventions that it chooses, then I would have never played my guilty pleasure game… Nintendo presents Style Boutique. Trust me, it's actually a great game. (The internet agrees with me dangit!)
The studio behind the title is Ninja Theory, a Cambridge-based studio responsible for a slew of fantastic action titles.They were responsible for Heavenly Sword, a smash hit for the PS3 that showcased just what the system could do. The company went on to make the criminally underplayed Enslaved: Odyssey to the West, a futuristic take on the popular 'Journey to the West' story that has been used countless times for fun media. They also handled the Devil May Cry reboot. Which I will not make a comment on, not because I didn't like it or did like it. Just for the sake of mystery.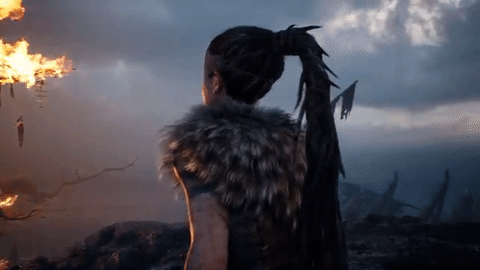 Ninja Theory is returning to form with Hellblade: Senua's Sacrifice. Which is going to be an action game with a 'rough' and 'desolate' energy which put the leading lady of Sesua who is already a tough and experienced warrior on an adventure through the Underworld which will be physically taxing, emotionally draining, and overall a very tough time for her. But the idea is to show the strength that a person has inside them and judging from the videos and developer interviews, the game should be ultimately rewarding in the end.
A small thing you'll want to keep track of is that the game was set for a release last year. Now it's simply set to 2017. Not fall, not winter, nothing set. So tread carefully as news has been quiet on the game. But judging from the information released so far, I really hope we get to experience Senua and her Sacrifice this year.

Aloy – Horizon Zero Dawn
Ending this list is one of the most anticipated games of the year for many gamers.  I'm talking of course about Horizon Zero Dawn. The PS4 title has turned many heads since it's announcement and for me, one of the reasons is the protagonist Aloy. She looks so unique and could easily helm any adventure for pure design and presence alone!
But Horizon Zero Dawn has a bit more going for it than just a great lead. It's the scale and universe displayed in all the videos released thus far. You've got planet Earth. Cool. Standard. BUT ADD ROBOT DINOSAURS. Yeah, straight out of the Mighty Morphin Power Rangers, you've got Robo Dinos roaming across the land.
Little has been told about the story, Aloy will be truced in the middle of a mystery behind the existence of these machines and the people who want to harness their power. Interestingly enough it's going to be an Open World RPG game. Not a linear adventure but rather a fully explorable 3rd person action adventure game with Robot Dinosaurs and set in a post-apocalyptic world. Couple that with a dynamic weather system and all sorts of events and more all with a promise of no loading screens, well it's a no brainer of a game to be hyped for.
Make sure you keep an eye out for Horizon Zero Dawn!
---
That's my list. Needless to say, this isn't the end all be all of games with females at the forefront that you should be on the look out for. But just 5 titles that I feel will be the most striking games that will be releasing this year so far. I'm looking forward to seeing just what else is released in the year, and maybe I'll do an overview at the end of the year!
Either way, I'd love to hear your thoughts on some of these titles and characters featured in them! Make sure to let me know your comments down below in the comments section!
This article was written by Dennis Montoya. If you want to reach out to Dennis, follow him on Twitter by clicking here.

Fan of Retro Gaming? Then visit FunstockRetro.co.uk – The #1 for Retro Gaming in the UK and Europe!