It's hard to remember a time before Marvel's superheroes dominated the box office, pop culture, and every in between. Heck, can anybody imagine a world without the Avengers or X-Men? But let's take a trip back to 2005 and a little known partnership between video games publishing giant Electronic Arts and Marvel Comics, home of the Avengers and the X-Men, among others.
Marvel Nemesis: Rise of the Imperfects is a fighting game collaboration that also tied into a comic book series of the same name. Unlike Capcom's later Marvel-themed fighting games, this game is not well remembered nor is it well loved by those who are aware of its existence.
Coming out for multiple systems including the Nintendo GameCube and DS, the Sony PlayStation Portable version of Marvel Nemesis: Rise of the Imperfects is perhaps one of the more unique variants in that it maintains a high level of graphical fidelity with the mainline port while also changing things a little bit – adding new characters, for example.
Released in September 2005, Marvel Nemesis: Rise of the Imperfects sees the classic Marvel heroes facing off against a new team of villains called the Imperfects, a team wholly owned by Electronic Arts according to sources.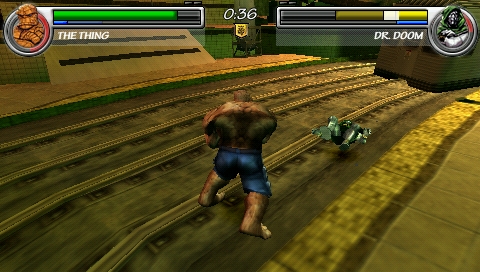 The game offers a simplified fighting game setup and allows players great freedom of movement like in games such as Power Stone and Ehrgeiz, two titles that critics compared it to upon release. It also offers a series of "fatalities" that can be performed once a player has won the match. Critics hated its simplified combat, with chain projectile attacks a common complaint. Fans, on the other hand, think the more accessible style of gameplay is just perfect for the title, particularly a portable version.
Another criticism that is completely without merit today is that the 6 issue special comic book series did not even focus on the same storyline as the video game Marvel Nemesis: Rise of the Imperfects. In fact, in certain key moments, the two plotlines actually seem to contradict one another, leading to confusion and lack of canon – two things comic book fans rarely love together.
In the vaguest sense, the game follows the conflict created by the invasion of the Earth by the Imperfects and how Marvel's superheroes deal with that situation.
Aggregator Metacritic currently has the game standing at a 53, but fans love it. Chalk it up to a passion for everything Marvel, or maybe even a penchant for obscure fighting games – whatever the reason, Marvel Nemesis: Rise of the Imperfects maintains a following to this day.
Overall, Marvel Nemesis: Rise of the Imperfects exists as a unique game that came out before the sensation that was the Marvel cinematic universe. It almost makes you question if anything would have happened differently had Marvel's huge blockbusters already started hitting theaters, but regardless, it's neat to see that the company was trying new things out with old properties even as far back as September 2005.