While most North American and Japanese gamers fondly recall Nintendo's classic gaming console, the Nintendo Entertainment System/Famicom, many never experienced Sega's first offering in the home console wars: the 8-bit Sega Master System.
Equipped with bright colors and awesome sound in comparison to the NES' then-aging architecture, Sega's entry into the home console wars was a masterful attempt at market relevance. Even though Sega would not strike home console gold until the release of the Sega Genesis/Mega Drive, the Master System represents the origins of what would become a video gaming powerhouse.
Many of Sega's hit arcade franchises made it to the system, and even a port of the Sega Genesis classic Sonic the Hedgehog was released but overall the system, while sporting competent games, is also the home of many lost series, such as Sega's first attempt at a mascot, Alex Kidd.
Here are the top 10 Sega Master System games that any fan must have in their collection;
10. Psycho Fox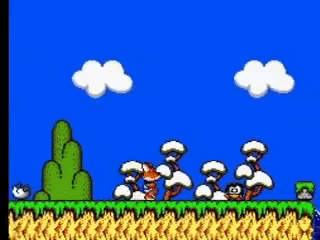 Developed by Sega and released late in the Master System's life (1989), Psycho Fox is a side-scrolling video game with bright, detailed cartoon-inspired graphics and unique gameplay options inspired by the Shinto religion.
Using a stick, Psycho Fox can transform into a variety of animals, each with different abilities, to complete various puzzles found throughout the game's stages. The game was well received critically, with many praising its bright graphics and solid gameplay.
9. Operation Wolf

Taito's 1987 shooter Operation Wolf is one of the Master System's quintessential high-paced, intense action games that was an arcade smash brought home to the consoles. To complete each stage, the player is tasked with successfully carrying out various attacks and acts of destruction.
Once fulfilling these objectives, the player moves on to another stage, each of which is set in a different locale and with a theme unique to each. Operation Wolf was ported by Taito to numerous systems and went on to spawn a slew of sequels, many of which are still highly regarded to this day.
8. California Gam
es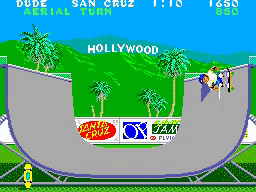 Released by Epyx, California Games was a collection of thoroughly challenging yet addicting mini-games centered around various California-esque sports like surfing and skateboarding.
The game was a critical success and was ported over to many systems. What makes it notable on the Master System is that it is one of the system's best sports games by far, in addition to being one of its best games in general. Many members of the team went on to great things in the gaming industry, including one who established the technology that would later become the basis for Microsoft's DirectX software.
7. R-Type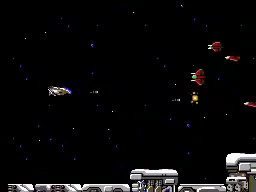 Like many of the other games on this list, R-Type is a port to the Master System (one of its many strengths is that the Master System received a ton of well-made ports of the most popular arcade titles at the time) and, like others in this list, represents some of the best elements a gaming genre has to offer on the system, in this case a shoot 'em up.
R-Type may be familiar to people since it has seen so many releases on so many different platforms through the years, but the Master System version is notable for its stripped down graphics but amped up gameplay.
This game is a real challenge for people looking for that sort of thing on Sega's 8-bit home console.
6. Alex Kidd in the Miracle World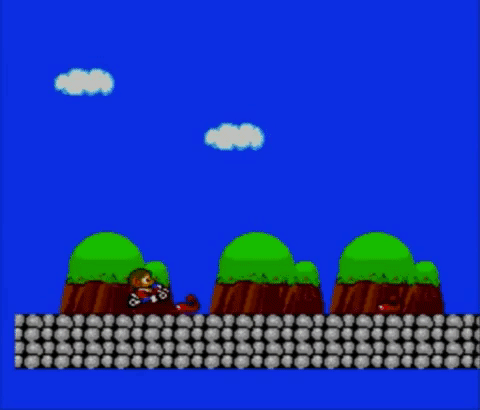 Sega's lesser-known mascot before Sonic the Hedgehog, Alex Kidd, is a competent, bright, and cheerful platforming game that places the player in control of the titular Alex Kidd as he makes his way through various stages, each with a theme. The game actually came built-in to many consoles, making the cartridge version one of the rarest Master System games on the market.
The game has 17 levels and no save system, although players can retry the stage they were just on if they press the number 2 button eight times while holding up on the direction pad while on the game over screen.
5. Baku Baku Animal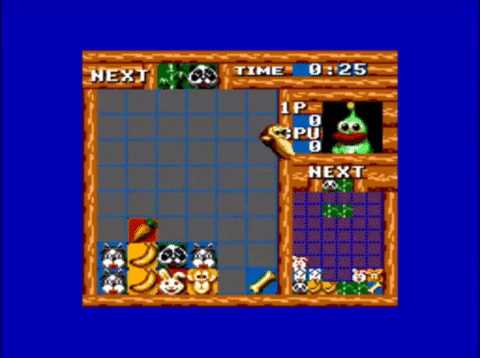 This is one of Sega's longest-running series and it is a puzzle game like Tetris that tasks the player with lining up falling blocks of animals and their respective foods which the player must then align adjacent to one another so that the animal eats the food offered. Like Tetris, the player can chain together combinations for higher and higher scores.
4. Wonder Boy III: The Dragon's Trap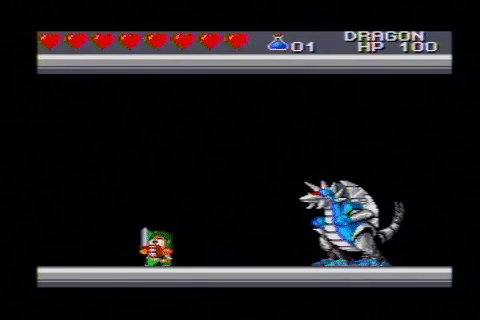 Wonder Boy III: The Dragon's Trap is an action adventure platforming game from Sega for the Master System in 1989 and for the Game Gear in 1992. The game's story takes place after Wonder Boy in Monster Land and sports non-linear gameplay that tasks the player with finding items and clues necessary to explore the vast world of Monster Land.
Featuring bright, colorful graphics and amazing sound, Wonder Boy III shows off what the Master System can do and readily demonstrates how technologically superior it was to many other 8-bit systems on the market at the time.
3. Prince of Persia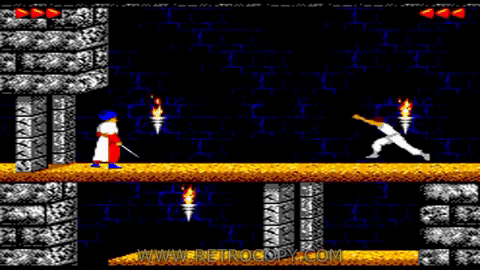 Another game with more ports than you can name, Prince of Persia on the Sega Master System brings over the classic PC gameplay to the home consoles, sacrificing none of the original's difficulty or charm in the process. You play as the Prince of Persia, vaunting through trap-laden dungeons to rescue the damsel at the end.
This game is hard, and that's what makes it so rewarding: It is hard in that classic sense of accomplishment once beaten, not frustration born out of some hackneyed attempt at extending the gameplay. It is the mature approach Prince of Persia takes to gaming that sets it apart from other games in this list and marks it as an attempt at broadening the scope of the platforming genre beyond cutesy cartoon characters and their princesses.
2. Sonic the Hedgehog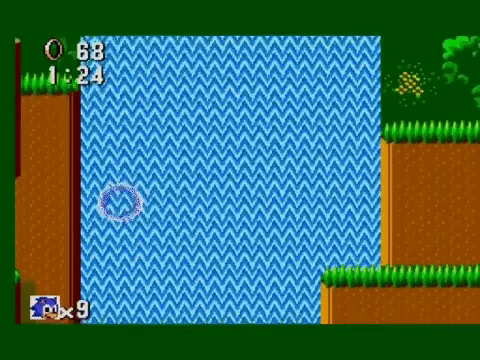 As if this entry needs any introduction whatsoever, Sega's port of Sonic the Hedgehog to the Master System is actually a different game entirely from the Sega Genesis version, and that makes it a must-see for fans of the boy in blue.
Amazing sound and bright graphics, this port shows that the Master System had the power to do much more than others in the field but, sadly, this game is entirely overshadowed by the Genesis edition, which went on to become a seminal hit for the company and established that console as a threat to the Big N's dominance of video gaming.
1. Phantasy Star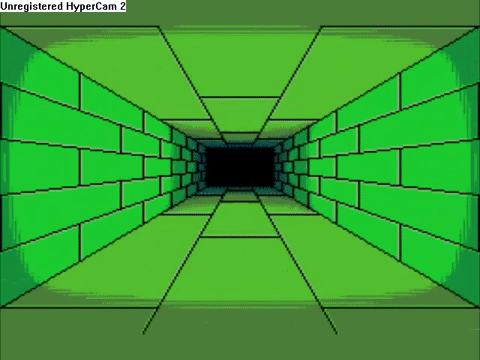 Number one on this list is the game that Sega fans all over the world cannot live without and one that continues to rank at the top of the lists to this day: role playing extravaganza Phantasy Star. Like Dragon Quest and Final Fantasy, Phantasy Star is one of those foundational series that shaped so many others to come.
While many of the systems in Phantasy Star can be found in other games at the time, few could rival the game's story and character development, both of which were exceedingly top-notch and memorable. If there is any game in this list you must play, Phantasy Star is that game.
Honorable mentions:
Golden Axe Warrior: We debated leaving this game off of the list because it is one of the most competent Zelda clones you will ever find, and combining that with the Golden Axe franchise is a masterstroke of genius. But, being a clone, it could only rise so high and in this case made the honorable mentions list for the Master System. All in all, however, the game is a must-own game for the system.
Wonder Boy in Monster Land: Wonder Boy III improved upon this game in every way but that doesn't mean it still isn't worth a look. Give Wonder Boy in Monster Land a try if you're dying for some good platforming action.
Space Harrier: Another intense shooter, this game would have replaced R-Type had R-Type never existed.
After Burner: The classic Sega arcade game brought home to the Master System. Completely faithful to the arcade original and just as addictive, After Burner didn't make the cut because there are so many ports out there of the game, many of which are better. That is not to discount how impressive this port was for the time.
While Sega's Master System never quite rose to the heights of Nintendo's NES, it was nonetheless a technical marvel that had quite a few games that were more than worthy of the title blockbuster, and even a few more that have entered into legendary status. Whether it is one of the system's many superior arcade ports, or one of its quintessential originals, the Master System has a bit of something for everyone and is definitely a must for any retro gamer seeking to expand their library of games.